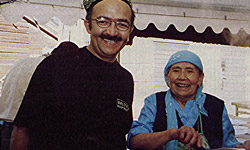 Kurash Sultan was born on July 21 1959 in Urumchi, the capital of East Turkistan.
His father was proclaimed nationalist and banished to Kösan/Kuchar in 1962. The Kösan area is famous for its artistic history. The place planted the bean of art within his heart and soul. His father, Sultan Mahmud, was again proclaimed nationalist and banished a second time 1970 to Ili/Ghulja. Ili is the crib of uyghur songs and the place refined Kurashs art talents. Kurash Kösans grandfather was also proclaimed nationalist and jailed in warlord Shing Shi Sai´s dark prisons in the 1930´s were he died. Kurash Kösans father, Sultan Mahmud, was proclaimed nationalist by both Shing Shi Sai and Nationalist China as well as by the communist and jailed by al three of them. He died from a heart attack without being able to meet his soon, who was in exile and proclaimed to be inheriting separatism, for a last time. Kurash followed his legacy.
Kurash said "When I was breast feeding the milk tasted bitter. It came from the national slaughtering by the Chinese through suffering, injustice and prejudice… The anger was already raging inside uyghur mother's blood."
Kurash studied at the art collage school for 3 years, after which he continued to study Uyghur literature for 2 years, mandarin for 2 year and compositor for 4 years at the university.
With an original limit of 5000 copies, his cassettes "Hesret" and "Echinish" were sold over 160 000 copies each. The song "Yerni Satmanglar" (Do not sell your land) is well known among Uyghurs. The tour around East Turkistan included over 1000 concerts with over 5 000 000 attendance. This was the record for any tour in East Turkistan.
He was honoured 5 times by the Chinese government and 10 times by the "Xingjiang" government for his songs, music and poems. 1989 he was accepted into "Chinese star club" (an organisation which includes only the biggest and most popular singers in China).
Shortly afterwards he was called a provocateur by the Chinese government. He was warned several times after which a red document was published by the Xingjian Partikom and government union chairman Janabil with meaning "Kurash is a provocateur and he is not allowed to perform his songs publicly, he is not allowed to speak if more than 8 persons are around." His company "Kösan culture and Art Company" was closed by the government. His offices and company resources were confiscated. He was sentenced to three years in house arrest. At that time Kurash decided to flee the country with the help of friends.
In 1996 he came to Turkey and learned the language. 1997 he came to Kyrgyzstan. In Central Asian countries he published "Oyghan Turkistan" (Wake up Turkistan) 1 2-3 4. After Chinese governments pressure at the Kyrgyz government he was jailed 9 months. With the help of UN he came to Sweden in December 1999.
In Sweden he studied Swedish language for 2 years and computer for 1 year. He attended more than 10 music festivals around Europe. He released CD "Uyghur folk song" 2002. He recently released CD´s "Tunes of Kuchar" and "Wake Up Turkistan 5" (Songs for freedom) 2004.
Kurash Sultan passed away on Oct 29, 2006 in Sweden.